Guide to Draped Bust Half Cents
The Draped Bust Half Cent represented the second design for the half cent denomination. Coins of the series were produced each year from 1800 to 1808, with the exception of 1801. Following some early issues acquiring sufficient planchets, the output of half cents from the United States Mint increased and became fairly steady. Together with the large cent, these copper coins played an important role in the commerce of the newly-formed country and circulated alongside old colonial coppers and world coins of all sorts and denominations.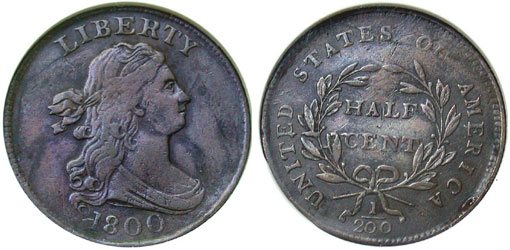 1800 Draped Bust Half Cent
The obverse design of the Draped Bust Half Cent features a new rendition of Liberty. She is facing to the right with her hair tied in a ribbon, and as the series name implies, she is adorned with drapery around her bust. The inscription "LIBERTY" appears above, and the date appears below. This image of Liberty was likely based on a painting finished by the famous portraitist Gilbert Stuart in 1795. The model for the image is believed to have been Anne Willing Bingham, wife of the influential Philadelphia statesman William Bingham.
The reverse is found in two different styles. The so-called "style of 1800" was used in 1800 and for some of the half cents struck in 1802. These coins feature the same reverse design as the previous series. A small laurel wreath surrounds the denomination "HALF CENT", with "UNITED STATES OF AMERICA" surrounding. The value of the coin is also expressed numerically as "1/200″ with a horizontal bar dividing the numbers. On this style, the lettering and devices are relatively small and the wreath ends point horizontally. The "style of 1803" was used on the majority of 1802-dated half cents and the remaining coins of the series. On this version of the design, the wreath and lettering are larger, and the ends of the wreath point upwards.
The Draped Bust Half Cent series contains some common dates, which can be relatively easily acquired even in grades as high as about uncirculated. However, the lower mintage dates and mint state examples with original surfaces are rare and command high premiums. The series also contains a large number of die varieties and die states, which are actively pursued by collectors.